Registration is now closed.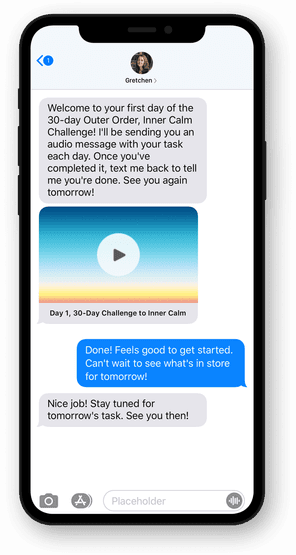 Thank you for your interest in the Outer Order Inner Calm 30-day SMS Challenge.
If you are interested in knowing when registration opens again, please enter your email address below.
Based on my book, Outer Order, Inner Calm, this 30-Day SMS Challenge will help you boost your inner calm by giving you a simple way to physically bring order to your life each day. By organizing your desk and cleaning out your closet, you'll bring a greater sense of calm to every part of your life.
Commit to boosting your inner calm by signing up for the Outer Order, Inner Calm 30-Day Challenge today.
I'll text you an audio message each day to explain your daily task. Text me back when you're done so I can congratulate you.
As you complete each task, notice how much calmer you feel, in other areas of your life. More order, more calm.
When you make progress decluttering every day for 30 days, you're on your way to enjoying the many benefits of outer order.
FAQ
How does it work?
After you sign up, you will receive a welcome email. When the program starts, I'll text you at 9 am (your local time) every morning for 30 days with a short audio message that explains your decluttering challenge for the day. When you've completed the task, you'll text me back so I can congratulate you.
What happens when the challenge is over?
When the challenge is over you will feel so proud of yourself for all you have accomplished to create more order and peacefulness in your home! By taking small steps everyday for 30 days, you can get a lot accomplished.
What happens if I miss a day?
If you're unable to complete the challenge for one day, you will still have access to the audio message on your smartphone and you can listen and complete the challenge anytime. However, one of the reasons I love this new program, and hope you will too, is the accountability aspect. By responding to the SMS message each day, you'll hold yourself accountable for accomplishing each task and stay on track all 30 days.
I have already read your book, is this still for me?
Even if you've read my book, Outer Order, Inner Calm, this simple tool will help you implement all the ideas and tips. These daily challenges offer a combination of practical support, outer accountability, and fun to help you follow-through on creating outer order.
What countries does this work for?
Unfortunately, at this time this 30-day SMS challenge only available in the US and Canada. I am planning to add Whatsapp in the future to offer an international option.